Treatments at a Glance
Treatments at a Glance
Why Choose Us?
Why Choose Us?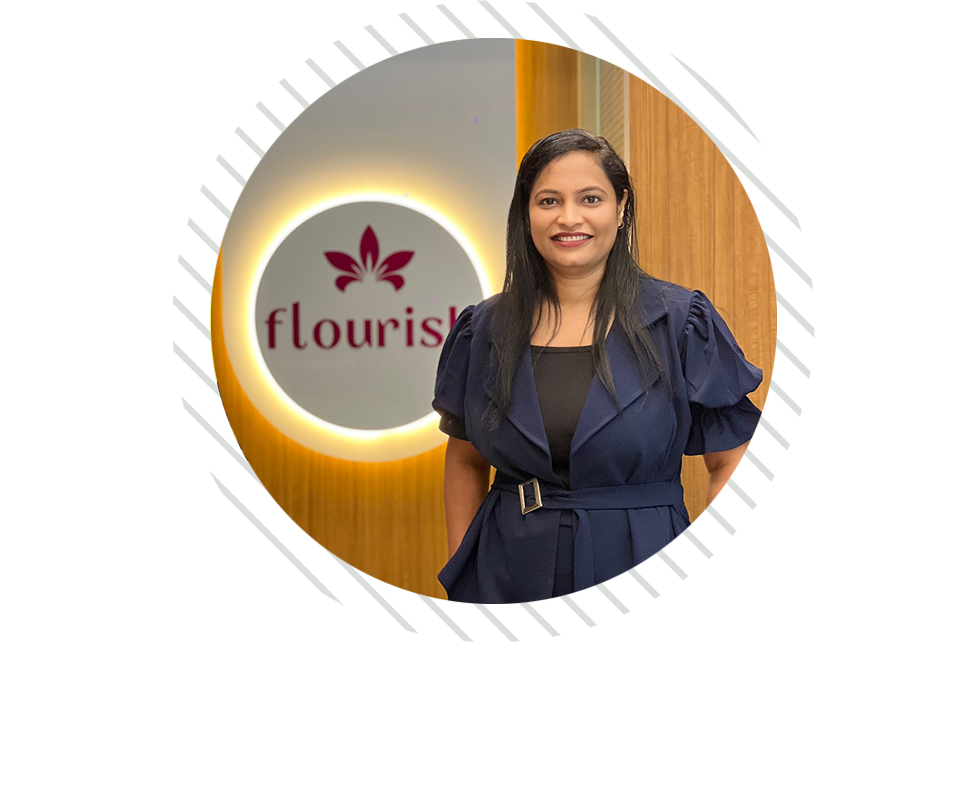 In order to give patients stress-free solutions to any skin and hair issues they may be having, renowned cosmetologist Dr. Kalyani Katkar, founded the Flourish Clinic.
Skin Treatment

Our experts make sure your skin gets the protection and care it needs to glow from within!

Hair Treatment

Stay on top of your hair loss concerns with our advised modern hair treatments, which are ideal for regaining your confidence and hair!

Laser Treatment

Our dermatologists guarantee you excellent care and results with our minimally invasive lasers.
Book an Appointment
Experience the goodness of Flourish with our trained experts to guide you
with our personalised treatments tailor made for your needs !
Book Now
Testimonials
Testimonials
Sourabh Kotekar

Doctor at flourish is one of the finest doctors I ever met. She is very professional, spends time to listen to issues and explains diagnosis before providing treatment options. She also advises on the precautions one should take to avoid recurrence and is accessible for follow up. Highly recommended best hair treatment clinic in Kolhapur.

Vaibhav Pawar

Flourish clinic and there treatments are always so thorough and professional. Doctor is the best She takes the time to really listen and never makes me feel like we're being rushed. I love her comprehensive approach to treatment– she leaves no stone unturned and is very committed to her patients. You can tell she is passionate about dermatology and it comes through in the way she treats her patients. Hands down, BEST dermatologist I have ever had the pleasure of seeing

Shashank Nalavade

She is the best Doctor i have ever come across. The command with which she was dealing with me, was brilliant. She clearly mentioned which type of warts it is and how it will affect you and how you should take care of it, if you do not want to go for the treatment. Lastly, she made it very clear, that unless you opt for the treatment it won't go away in time. And explained me a precaution I should take care off and post the procedure she followed with me twice to check for improvement. Great doc who is focused to service first. I strongly recommend her . Best dermatologist in kolhapur

Acne is not caused by unhygienic skin, contrary to popular perception, and there is minimal evidence that consuming chocolate or oily meals causes acne. Excess oil production, clogged hair follicles, bacteria, and fluctuating hormones are the four basic causes that contribute to acne.
While certain elements about why these items cause acne remain unknown, there are a few things we can be sure of. We're debunking some of the most common acne myths to help minimize misunderstanding and misinformation. After all, in order to properly combat it, you must be able to distinguish between fact and fiction.

You are what you eat! And in the 21st century, with the variety of food available at the snap of a finger, it makes us question… What is Healthy Food?
Our fast-paced lifestyle has given us the perfect excuse to find 'shortcuts' in our meals to save time and money. With the introduction of new diets every day like keto, low carb, and vegan, we end up unintentionally missing out on our essential nutrients. This could have a profound impact on an individual's health, especially their hair growth causing common problems like baldness and hair loss. 
Instead of deriving your nutrients from supplements, here is your ultimate hair growth guide to consuming the right vitamins to be healthy, wealthy, and wise!

With the sun blazing down on us in summer, it's essential to protect our largest organ- Our skin! With or without the constant sunburn and skin damage, our one constant is sunscreen. Whether rain or shine we all know the importance of making a habit of the daily application of sunscreen. Whether we stay indoors to beat the heat or enjoy ourselves at the beach, we need to be on our 'A-Game' while protecting our skin. Here are 5 things you need to know about sunscreen this summer